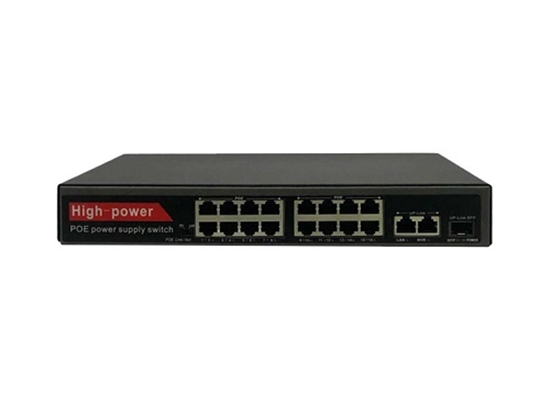 سوئیچ 1+2+16 پورت SM-LB162P-SF
simaran
18 Ports - 16x10/100M POE + 2Gigabit uplink&1SFP port
IEEE 802.3x
built-in power / TOTAL 150W * 2
long distance 200m

Product Overview:
This is a high-performance, low-power 16+2+1 fiber interface port 10/100/1000Mbps Ethernet
switch, which is the primary choice for small and medium-sized local area networks. It provides
16* 10/100Mbps ports, plus 2*1000Mbps UP LINK Ports and one 1000Mbps fiber interface
port, which can be used to connect upstream devices with higher bandwidth. Using
store-and-forward technology, combined with dynamic memory allocation, ensures that
bandwidth is effectively allocated to each port. Support port-based VLAN and tag-based VLAN,
port aggregation, bandwidth control, port mirroring, priority, static MAC address table, port
security and other intelligent configuration. The full line speed 100M backbone 100M network
is connected to your workgroup or server, which is convenient for you to plug and play. This
flexible non-blocking architecture allows users to use without being limited by bandwidth and
media network. The switch supports half-duplex flow control and full-duplex backpressure
mode. Each switch port supports adaptive function. The port uses a store-and-forward mode,
which can effectively isolate broadcast storms, reduce error packets and Wrong packets, to
avoid network congestion and network conflicts, product performance is superior, simple to
use, convenient and intuitive, provides an ideal networking solution for broadband access for
workgroup users and smart communities.
Application:
This switch is widely used in small local area networks, small and medium
enterprise LANs.
Product features:
◆ Support IEEE 802.3az
◆ Support port aggregation (link aggregation)
◆ Support broadcast storm protection
◆ 16 * 10 / 100Mbps and 2 * 1000M adaptive RJ45, support automatic flip
(Auto-MDI / MDIX) and 1 * 1000Mbps fiber port
◆ Support 2K MAC address
◆ Support EEPROM configuration
◆ Support IEEE802.3 af / at
◆ All ports support 2KV lightning protection
◆ Support 16 VLAN (IEEE Std 802.1q)
◆ Support maximum forwarding data packet length 2048byte / 9K Byte
◆ Support 25M clock, built-in power supply, metal shell design